The benefits of pressuring washing
Regular pressure wash cleaning of your building exterior, parking lots and entrance ways at your commercial property not only provides a noticeably clean appearance, it also extends the life of its building and construction materials. Over time, dirt and debris can damage and deteriorate asphalt, concrete, stone, brick and siding.
Commercial Buildings
Regular pressure washing protects the exterior surfaces of your building or facility against long-term damage caused by grime, oil, salt, mildew and other damaging elements that can build up on outside surfaces. If you are thinking about painting or resurfacing your building, pressuring washing beforehand is recommended as the new paint or other coatings will adhere better and last longer than if they are applied over unclean surfaces.
Parking Lots and Walkways
When it comes to parking lots, salt, engine oil and other contaminants can become embedded in the asphalt and cause deterioration over time. Oil, in particular, creates soft patches in asphalt that can become hazardous potholes over time. Pressure washing your parking lots and walkways will also remove the deepest stains and leave your entrance ways and properties looking like new.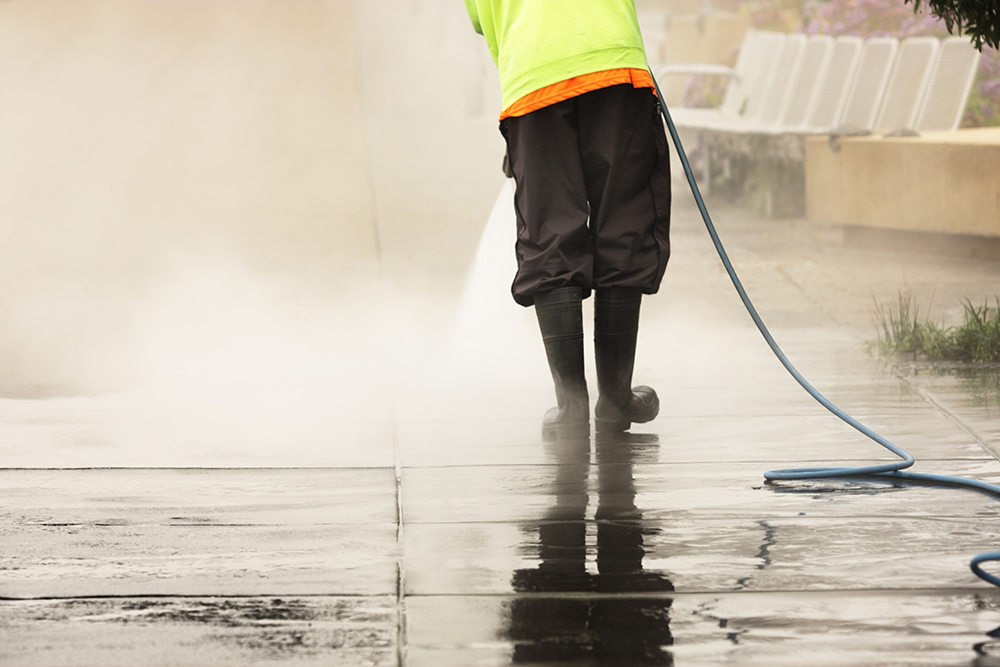 Professional results
At ServiceMaster Of Calgary Commercial Services, our team has the experience and expertise to ensure the highest quality of service. Our technicians have the training to perform professional pressure washing on a variety of types building materials and surfaces, and they follow strict safety standards and procedures at all times. We use best-in-class equipment and processes, and a professional truck-mount which allows us to efficiently tackle all types of pressure washing locations.
ServiceMaster Of Calgary Commercial Services offers comprehensive pressure washing cleaning services for all commercial and industrial locations including:
All types of building exterior surfaces
Driveways, pavement and parking areas
Graffiti removal
Interior industrial walls such as garages and delivery bays
Truck loading docks
Sidewalks
Fences
Did You Know?
What steps are taken to safeguard our building security?
ServiceMaster Clean understands the critical importance of office security and prides itself on complying with our customers' requirements. ServiceMaster Clean enforces a strict policy regarding all keys and security passes issued. Our employees wear a Company Uniform and have ID Badges so they are clearly identifiable at all times while on the job.
What are your hiring practices?
We have a comprehensive screening process for our janitorial staff that ensures the most trustworthy and qualified people will service your business.
Can we contact you outside office hours in case of an emergency?
ServiceMaster Of Calgary Commercial Services will provide you with a live-answer, emergency phone number so that we can help you with any emergencies that may arise 24 hours a day, 365 days a year.